In the sky, there is no distinction of east and west; people create distinctions out of their own minds and then believe them to be true.
– Buddha
Currently situated in Lynnwood, Washington, my travels to this point have taken me in every direction, from the west coast to the far east. I've traveled to 30 countries across four continents and explored 40 states in the U.S. as a solo traveler as well as with family and friends.
Although I sometimes peruse my copy of 1000 Places to See Before You Die, starring the destinations I've been able to visit so far, I don't have a formal travel bucket list. As I learn about new people and places, I catalog them in my mind (or in one of my sophisticated excel spreadsheets!) and resurrect them when the opportunity presents itself.
I'm going to see where the road takes me and enjoy the journey along the way.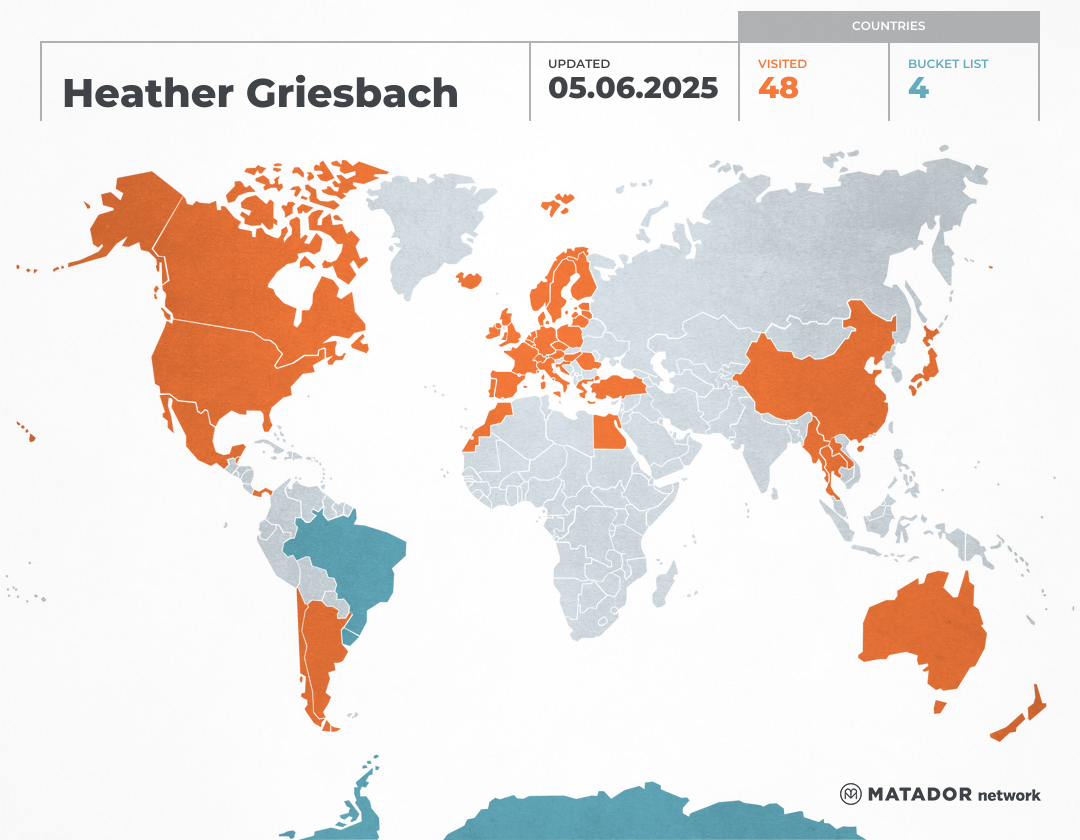 Heather has been to: Austria, Belgium, Canada, Switzerland, People's Republic of China, Czech Republic, Germany, Denmark, Egypt, Spain, France, United Kingdom (Northern Ireland, Scotland, England), Greece, Croatia, Hungary, Ireland, Italy, Japan, Laos, Morocco, Myanmar, Mexico, Netherlands, Poland, Portugal, Romania, Thailand, Turkey, United States, Vatican.
Destinations: Accomplished
Africa
Egypt

Cairo
Alexandria
Aswan
Luxor

Morocco

Marrakech
Essaouira
Casablanca
Fes
Tangier
Asia
Thailand

Bangkok
Chiang Rai
Chiang Mai

Myanmar
Laos
China
Turkey
Japan
Europe
Republic of Ireland

Dublin
Slane
Galway
Cork
Waterford
Kilronan
Flaggy Shore
Kinvarra
Doolin
Aughrim
Athlone
Kilbeggan
Donegal
Belleek
Sligo
Westport
Leenaun
Inverin
Shannon

Spain
France

Paris
Avignon
Fontainbleau-Avon
Provins
Reims
Versaille

Italy

Bari
Florence
Matera
Naples
Pisa
Pompeii
Rome
Venice

Vatican City
Switzerland

Geneva
Bern
Zurich
Lucerne

Hungary
Austria
Czech Republic
Poland
Germany

Berlin
Dresden
Nuremberg
Munich
Cologne
Dachau
Passau
Bad Griesbach
Fussen
Ulm
Stuttgart
Tubingen
Heidelberg
Hamburg
Schwerin
Bremen
Lubeck
Luneburg
Kiel
Frankfurt

Belgium
The Netherlands
Denmark
England

London
Stratford upon Avon
Manchester
Salisbury
Amesbury

Northern Ireland

Antrim
Belfast
Kilkeel
Carrickfergus
Bushmills
Coleraine
Derry
Newcastle
Portrush
Portstewart

Scotland
Romania
Croatia
Greece
Portugal
North America
Canada

Ontario
British Columbia
Alberta
Quebec

United States

Alaska
Hawaii
Washington
Oregon
California
Idaho
Utah
Montana
Wyoming
North Dakota
South Dakota
Texas
Minnesota
Iowa
Missouri
Arkansas
Wisconsin
Illinois
Michigan
Indiana
Kentucky
Tennessee
Ohio
West Virginia
Pennsylvania
Virginia
North Carolina
South Carolina
Georgia
Florida
New York
New Jersey
Delaware
Maryland
District of Columbia
Maine
New Hampshire
Vermont
Connecticut
Rhode Island

Mexico